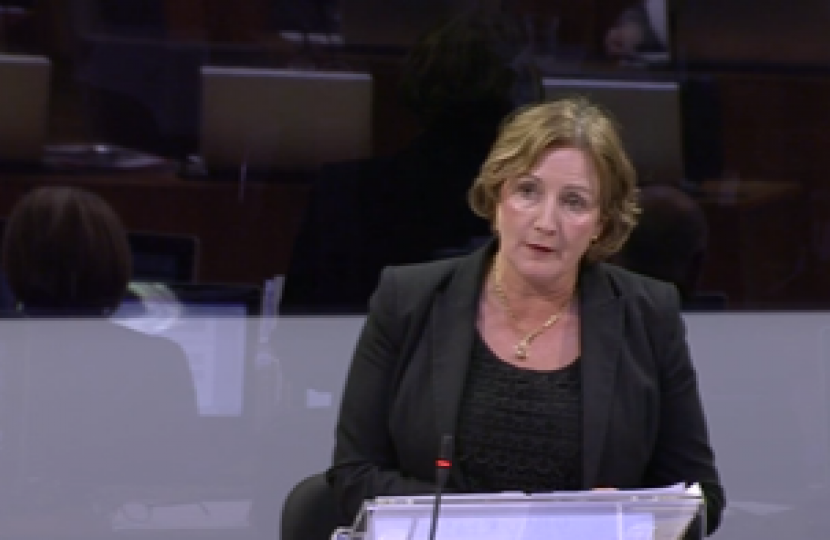 As Shadow Minister for Social Services Janet dedicated this week's scrutiny of the Deputy Minister for Health and Social Services to championing Care Homes.
She highlighted the fact that a survey undertaken by Care Forum Wales has revealed that more than 1,500 beds could be lost in Wales between now and 2024.
Following the Deputy Minister's response, Janet said:
"It is reasonable of the Deputy Minister to acknowledge that the decline of our care home system in Wales is a concern for the Welsh Government, but her proposed action is astonishing.
"There have been clear signs for years.  For example, the number of beds is already down 247 from 2014-15.
"The estimated further decline of the sector is truly alarming, and the Welsh Government's solution shows a detachment from reality. 
"What the Deputy Minister is advocating is encouraging local authorities to consider taking care homes in-house, adding further strain to already overstretched social services departments.
"As I explained to the Deputy Minister, councils across Wales, especially here in the North, are already struggling to manage requests from care homes, let alone their whole set up.
"For example, I unveiled the fact that care homes have been waiting unacceptable amount of time for their deprivation of liberty safeguards applications to be authorised by councils, with decisions taking over 200 days in Flintshire and over 300 in Ynys Môn.
"What needs to be done is improve the rate paid to care homes and their staff for the invaluable care they provide. This is a change that I will be pursuing further".
ENDS
Notes:
Questions to the Minister for Health and Social Services: Questions Without Notice from Party Spokespeople (5/6/19)
One in ten care homes in South Wales expect to close in the next five years
We're Sleep Walking Into Disaster With More Care Home Closures Looming